Hemp Hearts | Natural | Regular Size | 454g
Regular price
Sale price
$16.00 CAD
Unit price
per
Sale
Sold out
Hemp hearts are a local super seed! ZypChicks hemp is grown locally on the prairies, in the Edmonton area.
Why eat hemp?
🌱Protein  In every 30 g serving, about 3 tablespoons, there is about 10 g of protein. Hemp is a complete source of protein, meaning it contains all 9 essential amino acids.  Relatively few plant-based foods are complete proteins, making hemp hearts an important addition to any diet.
🌱Omega 3-6-9 Fatty Acids Hemp hearts are a great source of Essential Fatty Acids, essential because your body cannot make them. A 30g serving of hemp has about 10g of Omegas 3, 6 & 9. Omega fatty acids are important for skin health, heart health, brain health, and help in reducing inflammation.
🌱Fiber Hemp hearts are an excellent source of fiber. Consuming fiber ever day helps: control appetite, stabilize blood sugars, promote gut health, and aids in weight management.
🌱Vitamins and Minerals Hemp has an impressive array of vitamins and minerals. It is an EXCELLENT source of: vitamin E,magnesium, phosphorus & potassium. It is a very good source for: niacin, riboflavin, thiamine, vitamin B6 & folate.
Five easy ways to incorporate hemp into your diet:
1️⃣ Sprinkle hemp over your meals & snacks Just a spoonful of hemp on whatever you're already eating boosts your nutrition significantly. Try it on: cereal, porridge, yogurt, sandwiches, soup, salad, fruit, steamed veggies, rice, pasta, popcorn, cake, etc. Your imagination is the limit! Hemp adds a mild and delicious nutty flavour.
2️⃣ Smoothies  Smoothies are a quick and tasty way to jam pack tonnes of nutrition in one simple drink! Add up to 3 tablespoons of hemp to any smoothie. It blends up smooth and gives your smoothie a creamy texture!
3️⃣ Baking Whether your making no-bake energy bites or loaves of sourdough, hemp is an easy & delicious add-in! You won't likely taste a difference, but you'll feel great knowing that your treats have additional protein, healthy fats & vitamins and minerals!
4️⃣ Hemp Mylk So easy! Blend 1 part hemp with 3 parts water, and use in any recipe calling for dairy or non-dairy milk. For drinking, sweeten with maple syrup, agave, or honey. Try adding in a date, strawberries, or cocoa nibs for extra flavour. Keeps 3-5 days in the fridge.
5️⃣ Hemp Oil Use ZypChicks extra-virgin cold-pressed hemp oil as a finishing oil for salads, steamed vegetables, corn on the cob, pasta, Buddha bowls, soups, and even popcorn! Both our natural hemp oil and our garlic-infused hemp oil are super tasty! Hemp oil is heat sensitive, so best to to fry with it.
.....................................................................................................................................................................
Hulled Hemp Seeds are a delicious and easy way increase the nutritional content of your food. Our hemp is locally grown, making it the freshest hemp in your kitchen.
Hemp hearts are the light-coloured inner portion or heart of the hemp seed.
Hemp is a natural Alberta grown food product. It is easily digestible, gluten free, nut free and vegan. Hemp is  rich in protein (with all the essential amino acids), fiber, omegas 3-6-9 (essential fatty acids), and many vitamins and minerals. In fact, the nutritional labels on our hemp products look more like a fancy health supplement than an ordinary grocery item!
Hemp hearts are great on their own as a snack, but also delicious as a garnish on ANYTHING, from rice, to veggies, to fruit, to soup and salad. Hemp seeds add a nutritional boost and nutty flavour to baked goods such as bread, cookies, muffins and loaves. Blended, hemp hearts lend a creamy richness to smoothies, dips, sauces, spreads, and soups. They're good food for the whole family!
Hemp is good for people who need to cut down or be free of gluten, sugar, milk, nuts and meat.

Between 3 - 5 tbps of hemp a day, taken in the morning with your breakfast, will nourish you and keep you satisfied until lunch.

Live better: include a whole and natural food in your diet on a regular basis. 
STORAGE RECOMMENDATIONS: Store hemp out of direct sunlight and best in a dark environment such as your pantry. It can be refrigerated as well as frozen. Shelf life is reported at one year, though many people find it lasts much longer.
Ingredients: ZypChicks local raw hemp hearts
454 g bag
Shipping & Returns

Check out our shipping policy here and our return policy here.
Share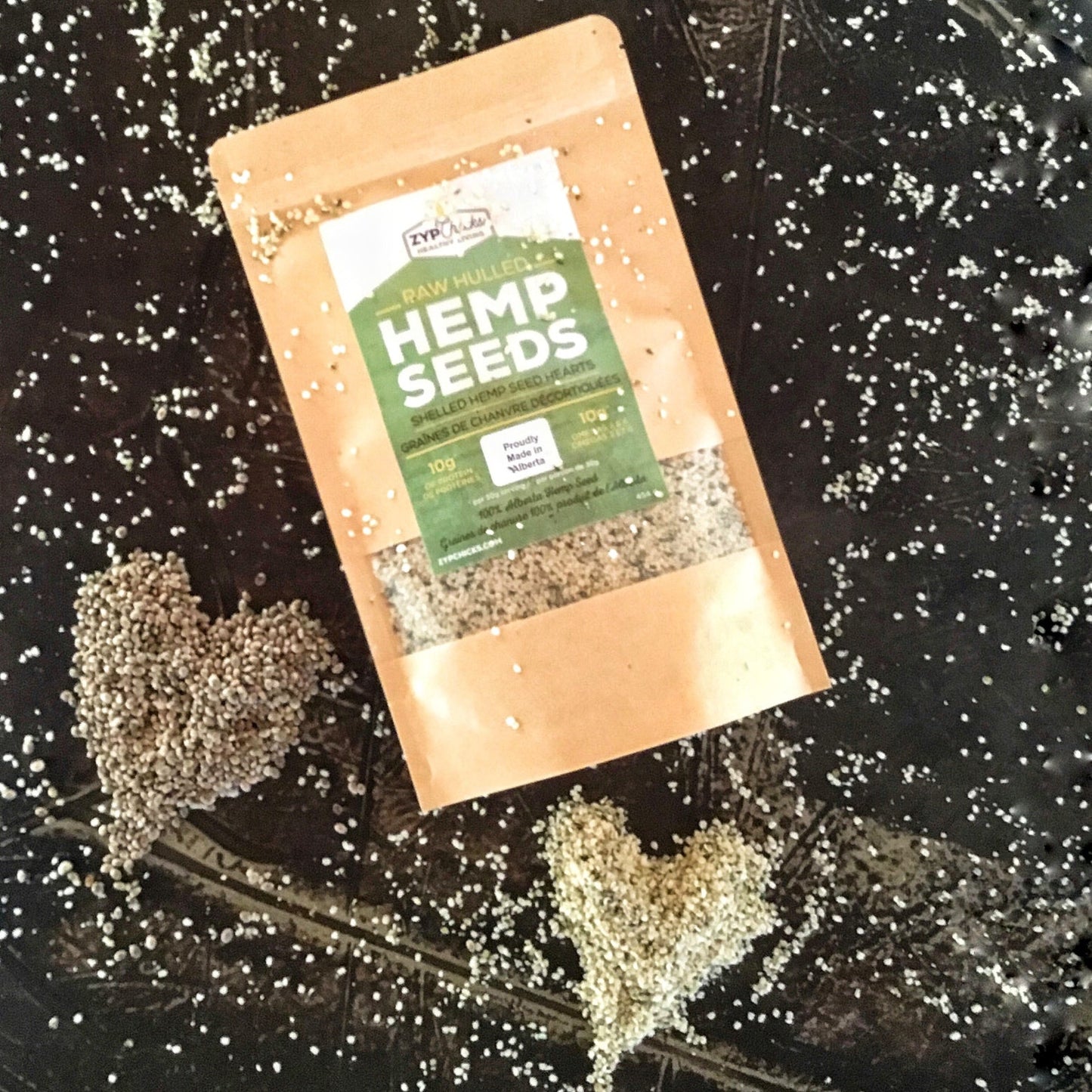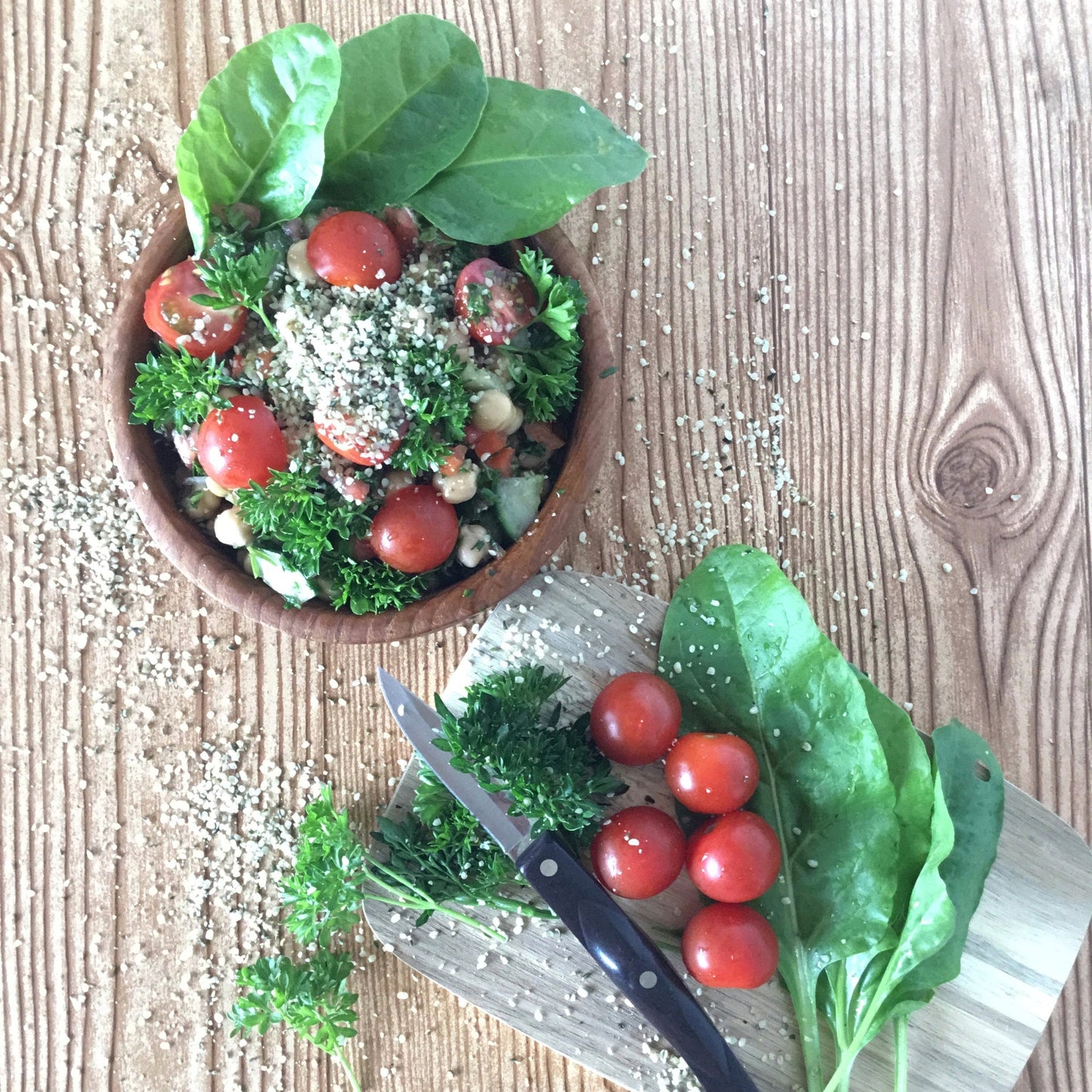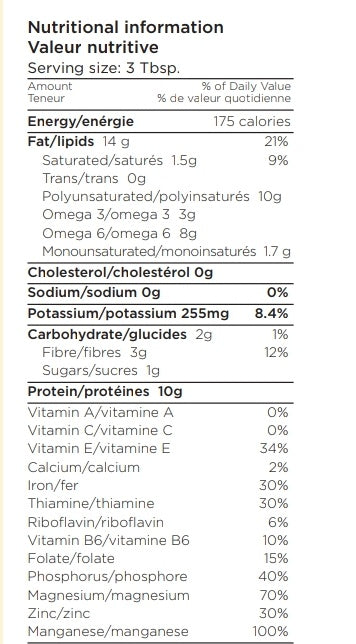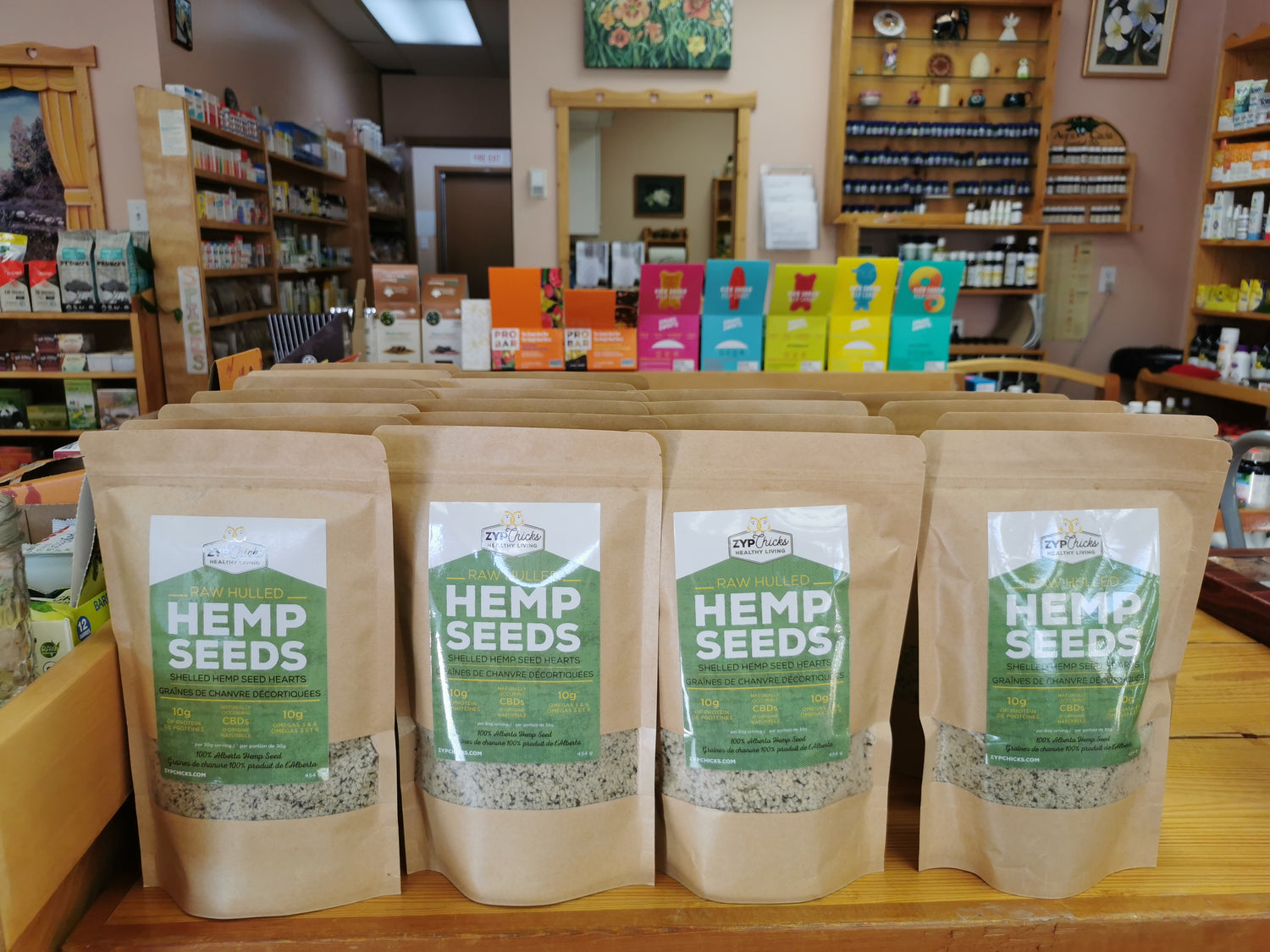 Pick it up near you...
Find and pick up Zypchicks Hemp seeds products in Edmonton, Calgary, Athabasca and Saskatchewan.
Click here